Can You File Bankruptcy for Personal Loans?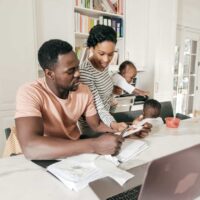 A personal loan is a form of credit that can help individuals make large purchases or consolidate high-interest debts. Many individuals obtain personal loans through a friend or family member. If personal loans have you overwhelmed, you might be wondering if bankruptcy can help you achieve financial relief. Our Los Angeles bankruptcy attorneys explain if personal loans qualify for bankruptcy.
Personal Loans & Bankruptcy
If you are dealing with overwhelming debt, most of which are personal loans, you may qualify for bankruptcy relief. Chapter 13 bankruptcy can help you reorganize the debt you owe to make your payments manageable, and Chapter 7 bankruptcy can help you discharge your debts in a matter of months to help you get a fresh start. Both of these bankruptcy options allow you to discharge personal loans from friends, family, and employers.
However, there are certain types of personal loans that cannot be discharged through bankruptcy. For example, personal loans used to pay for vacation homes, boats, recreational vehicles, or other valuable items might not be covered in your bankruptcy filing.
Other types of debt that won't be discharged through bankruptcy include:
Alimony
Child support
Certain unpaid taxes
Debts resulting from malicious acts
Personal injury judgments
Homeowners association dues
Have Questions About Bankruptcy?
If you aren't sure which bankruptcy chapter you should file for or which debts can be discharged through bankruptcy, our team at Wadhwani & Shanfeld is here to help. We can analyze your situation and answer all your questions related to debt relief. Our Los Angeles bankruptcy attorneys have helped over 25,000 individuals across California regain financial freedom. We have the knowledge, skills, and experience needed to help you achieve your desired case results.