New Year's Resolution: How to Get Rid of Debt in 2022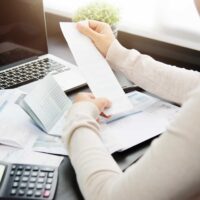 The start of a new year symbolizes new beginnings and the start of new year's resolutions. One of the most common new year's resolutions is to become debt-free. If debt held a toll on you last year, this year can be the year where you could break free from overwhelming debt and find financial freedom. To help you achieve your financial goals, our team at Wadhwani & Shanfeld has put together tips to help you get rid of debt in 2022.
Tip #1: Analyze Your Situation
Turning a blind eye on debt and payments is never a good start to achieving debt relief. If your debt has been too overwhelming to keep track of, it's time to roll up your sleeves and dive into your debt situation. Take detailed notes of the debt you owe, how much you owe, and how long it will take to pay each loan.
Tip #2: Cut Expenses
Budgeting is one of the most important and useful tools when it comes to achieving financial freedom. Start by identifying areas where you can cut down on spending. You may be surprised to find that you spend a lot more than you thought on coffee runs, TV or app subscriptions, or dining out. Track your spending to see what you can cut down on. A little can go a long way.
Tip #3: Renegotiate Debts
If you find that you are unable to pay off debts on time, you may consider negotiating with creditors to determine if you can reduce your spending. If you explain your situation, they may be willing to cut down interest rates or even help you settle for less than the original amount.
Tip #4: Seek Guidance from a Professional
If you are having difficulty making ends meet, you might not be able to achieve your new year's resolution alone. Dealing with overwhelming debt is not easy, and getting rid of it can be even more challenging. Having an experienced debt relief attorney on your side can help you understand your options and find a solution that will put an end to your debt once and for all. A debt relief attorney can help you determine if debt settlement or bankruptcy might be the right choice for you.
Need help achieving debt relief? Contact our Los Angeles bankruptcy lawyers today at (800) 996-9932 to schedule a consultation!