Avoid Holiday Season Debt with These Financial Tips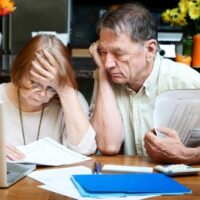 Oftentimes, the holiday season brings about the temptation to give to your loved ones. While this can be an enjoyable part of the holidays, it is important that you take the appropriate steps of budgeting to avoid drowning yourself in unpayable debts. To help, we have compiled a list of things you can do to avoid filing for bankruptcy during the holidays. Additionally, we have supplied this list with plenty of time before the holidays so you can start budgeting now!
1. Examine Your Discretionary Income
This refers to the amount of money you have left over after covering your monthly expenses. It is important that you only spend the amount of money you have left over. This will help you avoid dipping into your living expenses such as rent/mortgage payments, utility payments, cellphone payments, car payments, insurance costs, and food expenses.
If you are expecting a raise or holiday bonus, add this into the amount of income before calculating your costs for living.
2. Review Last Year's Holiday Purchases
To help determine your budget for gifts and other holiday accessories, consider the amount of money you spent last holiday season. Ask yourself the following questions.
Did I regret any of my purchases?
How many of my purchases were last minute?
Which purchases could I have gotten better deals on if I had had more time?
Could I have eliminated any of those purchases?
By answering these questions, you will be able to recall which purchases were necessary and those that were not. This can help you make better decisions for this year's holiday season.
3. Make a List and Plan for Black Friday and Cyber Monday Shopping
If you already have a general idea of must-haves on your holiday shopping list, you may want to consider forming a plan of attack for Black Friday and Cyber Monday. On these days, you may be able to find the best deals on many items, making your money go a lot further. Many retailers will offer great deals on the following items
Personal electronics
Computers
Televisions
Toys
Children's clothes
If are unable to find something on your Black Friday or Cyber Monday shopping list, remember, you still have about a month left to search for the perfect gift.
Wadhwani & Shanfeld Cares About Your Finances
The Sherman Oaks bankruptcy lawyers from our firm understand your desire to give beautiful and sentimental gifts during the holidays. However, we understand that during these times, it can be difficult for you to give extravagant gifts if you are facing financial difficulties. That is why we are here. If you are experiencing financial hardships, contact a Sherman Oaks bankruptcy attorney from our firm today. We can point you in the right direction and help you get back on your feet.
Call our firm today. It can be the difference between an enjoyable holiday season or a stressful one. We are here for you.