Is The Means Test Required in Chapter 13 Bankruptcy?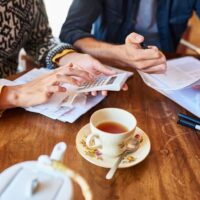 Since the Bankruptcy Abuse Prevention and Consumer Protection Act (BAPCPA) was passed in 2005, many changes were made to U.S. bankruptcy law, which included the provision of the bankruptcy means test. Although the means test isn't necessarily required if you already know you want to file for Chapter 13, there are some good reasons why you should take the test anyway.
What is the Means Test?
The means test is designed to determine whether your income is low enough to file for Chapter 7 bankruptcy. If you fail the means test and do not meet the requirements to file for Chapter 7 bankruptcy, you can opt to file for Chapter 13 bankruptcy.
How The Means Test Works
Despite popular belief, a low monthly income isn't a prerequisite for passing the means test. If you earn a bigger salary and have an overwhelming amount of expenses, such as a large mortgage or car payments, you may still be eligible to file for Chapter 7.
The means test will take your current monthly income and deduct your monthly expenses to determine your disposable income. The more disposable income you have, the less likely you may be eligible for Chapter 7 bankruptcy. When filing for bankruptcy, you may be required to use your disposable income to repay outstanding debts.
Why You Should Enlist the Help of a Bankruptcy Attorney
The bankruptcy process is complicated, and when you aren't experienced with handling bankruptcy cases, you may come across some very challenging obstacles. Individuals who attempt to file for bankruptcy on their own are expected to know the laws, and the courts will not advise you on what to do. Having an experienced bankruptcy attorney on your side can make all the difference in the outcome of your case.
We know how difficult it can be to make the decision to file for bankruptcy. Let us guide you to find the right bankruptcy option that meets your financial needs. If you've been threatened with foreclosure, facing mounting credit card debt, medical bills or other debt, contact Contact Wadhwani & Shanfeld today at (800) 996-9932 for a free consultation to learn more about your bankruptcy options.