Debt Help Through Bankruptcy: Everything You Need to Know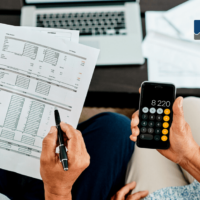 If you're dealing with an overwhelming amount of debt, you might be considering filing for bankruptcy. However, filing for bankruptcy can be scary and overwhelming. For that reason, the Los Angeles bankruptcy lawyers at Wadhwani & Shanfeld have outlined everything you need to know about filing for bankruptcy before deciding if it's the best option for you.
If you have questions about bankruptcy or you want your case reviewed, give our team a call today at (800) 996-9932!
Different Types of Bankruptcies
It's important to know that there are primarily two bankruptcy options. The two different types of bankruptcies include Chapter 7 and Chapter 13. There's no required amount of debts you need to file for debt relief.
Chapter 7 Bankruptcy
Chapter 7 bankruptcy is the most common bankruptcy filed that erases the majority of an individual's debt. The Chapter 7 bankruptcy process takes about three to six months. With Chapter 7 bankruptcy, it is possible that you will be able to keep your salary and wages, along with exempt assets.
Chapter 13 Bankruptcy
Chapter 13 bankruptcy is only available to people with debts under an established maximum value and those who have income that allows them to repay their debts over time. The difference between Chapter 7 and Chapter 13 is that Chapter 7 completely discharges a person's entire debt, whereas Chapter 13 gives debtors three to five years to consolidate debt in regular payments.
With Chapter 13 bankruptcy, debts are consolidated into a single debt payment plan. The amount of your payment would be adjusted according to your income. There are higher chances of keeping the property you make payments on with this type of bankruptcy. One of the benefits of Chapter 13 bankruptcy is that lenders view this more favorably because you took responsibility for debts payments.
Who Can Apply for Bankruptcy?
To determine if you qualify for bankruptcy, an attorney can use a test to weigh your income against your ability to pay creditors. However, individuals who previously filed for bankruptcy need to wait four to eight years to reapply. If you're unsure if you qualify for bankruptcy, our legal team at Wadhwani & Shanfeld can help you determine if you're eligible.
Property You Can Keep When You Declare Bankruptcy
It's a common misconception that filing for bankruptcy means all your assets get wiped out. On the contrary, bankruptcy can help you keep certain assets. When you file for bankruptcy, you will receive a list of exemptions. Exemptions protect your assets in any bankruptcy chapter you file.
California has two state exemption systems you can choose from: exemption system 1 and exemption system 2. Both systems can protect a certain amount of equity in your primary residence. They can also protect other assets including boats, stock cooperative, apartments, or other assets. Your car may also be exempt if there is a certain amount of equity in your car. An experienced bankruptcy attorney can help you determine which assets may be exempt from your bankruptcy.
How Does Bankruptcy Work?
Once you declare bankruptcy, an automatic stay will be put into effect. The automatic stay will immediately prevent creditors from contacting you. After a month after you file for bankruptcy, you will be scheduled to meet with a trustee to go over your financial situation. Creditors are only allowed to make objections about your bankruptcy 60 days after your debts have been discharged.
It's important to understand that only the debts listed on your bankruptcy will be discharged. You may still need to pay mortgages or other secured debt not listed when you filed for bankruptcy.
If you filed for Chapter 13, you need to make payments immediately after the court approves the repayment plan.
What are the Repercussions of Bankruptcy?
There will be consequences to filing for bankruptcy. For example, if you file for Chapter 7 bankruptcy, it will stay on your credit report for ten years. If you file for Chapter 13, it will remain on your credit report for seven years. It may also drop your credit score by a significant amount, but it might not significantly affect you if you already have bad credit.
However, this doesn't mean that you won't be able to receive credit if you file for bankruptcy. There are various things you can do to help you obtain a good credit score. Bankruptcy may have some repercussions, but it can help you have a fresh start by becoming debt-free.
Do I Need a Bankruptcy Attorney?
Although you can file for bankruptcy without an attorney, it's not typically in your best interest to do so. Having an experienced attorney on your side will be extremely beneficial because they can guide you through the process and help you make the most convenient choices. An attorney can also help you decide which type of bankruptcy is best for you.
An experienced attorney can also guide you through the means test. The means test calculation will indicate which chapter is best suited for your unique situation. While an attorney reviews your financial situation, they might even determine that bankruptcy isn't the best option for you. They can also help you determine the discharge of debts and which assets you might be able to keep.
Call Our Los Angeles Bankruptcy Attorneys Today!
If you are facing an overwhelming amount of debt and creditors don't stop calling you, it may be time to file for bankruptcy. Our Los Angeles bankruptcy lawyers have successfully helped over 20,000 people get back on their feet after a financial crisis. We have over 65 years of collective experience helping people in debt, and we are here to help you too. Our team is committed to helping you with your unique situation.
Give Wadhwani & Shanfeld a call today at (800) 996-9932 to schedule a consultation today!