Will I Lose My Home If I File for Chapter 7 Bankruptcy?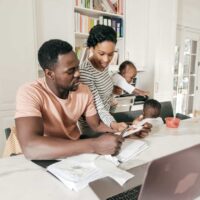 One of the biggest fears people have when filing for bankruptcy is losing property. If you are dealing with overwhelming debt and you are looking for quick relief through Chapter 7 bankruptcy, you might be wondering what assets you will need to give up in the process. Our team at Wadhwani & Shanfeld breaks it down for you below.
Your Home and the Chapter 7 Bankruptcy
Chapter 7 bankruptcy is one of the most common forms of bankruptcy because it allows debtors to become free from debt in as little as four months. However, it is important to note that Chapter 7 bankruptcy only eliminates unsecured debts. Unsecured debts are loans not backed by collateral, such as credit card debt, overdue medical bills, and personal loans.
Chapter 7 bankruptcy doesn't eliminate debt tied to mortgage debt or car loans. However, this doesn't mean that you will lose your home if you file for Chapter 7 bankruptcy. Whether you can keep your home after filing for Chapter 7 bankruptcy will depend on the following:
Whether your mortgage is current
Your ability to make mortgage payments after bankruptcy
How much equity you can protect with a homestead exemption
The amount of equity in your home
Protect Your Home Equity With Bankruptcy Exemptions
California homestead exemption allows debtors to protect their homes while going through bankruptcy proceedings. If you want to try to protect your home, it will go into a bankruptcy estate held by the Chapter 7 bankruptcy trustee that was appointed to your case. If the state or federal exemptions cover your equity, the appointed trustee won't sell your house. However, if the exemptions only cover a portion of your home's equity, the trustee may need to pay off the mortgage by selling the house and giving you the amount you're entitled to exempt.
Protecting your home can get tricky during bankruptcy proceedings. For guidance, contact our Los Angeles bankruptcy attorneys today at (800) 996-9932!