Busting Bankruptcy Myths: How Bankruptcy Affects Your Future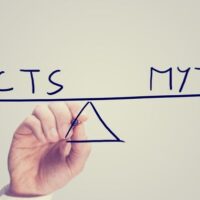 There are a lot of myths and misconceptions about bankruptcy, especially when it comes to how bankruptcy affects your future. At Wadhwani & Shanfeld, we hear these myths a lot, and we spend a great deal of time addressing them with our clients and explaining why they're wrong. Because viewing myths as truth can create barriers in your journey toward better financial health, our bankruptcy attorneys have debunked a few of the most common myths we hear.
Bankruptcy will permanently ruin your credit.
This is one of the most common bankruptcy myths – and it's completely false. Part of the reason why this myth exists is because bankruptcy does impact your credit. While not always the case, a bankruptcy filing can remain on a credit report for a certain amount of time (up to 7 years for Chapter 13 bankruptcy and up to 10 years for Chapter 7 bankruptcy).
Although bankruptcy does affect your credit, its effects are nowhere near ruinous or permanent. In fact, many people who file bankruptcy and practice responsible credit behavior end up having higher credit scores than they ever had before they filed. Our attorneys provide clients with the tools to rebuild credit after bankruptcy.
You will lose everything when you file bankruptcy.
Filing bankruptcy does not mean you will lose everything. This myth is also quite common, but it's more true in games like Monopoly, where "going bankrupt" means you're out of the game. In reality, bankruptcy is a tool that can actually protect your property. In Chapter 7 bankruptcy, for example, you can claim state and federal exemptions to protect certain personal possessions and assets. The great majority of Chapter 7 cases are "no asset" cases, meaning no assets are sold or liquidated. In Chapter 13 bankruptcy, consumers are able to keep their real and personal property by making payments toward debt. Bankruptcy can also help consumers stop repossession and defend against foreclosure.
You will never be able to get a loan.
This isn't true. Although bankruptcy will affect your credit, you can still find ways to re-establish good credit history and obtain loans in the future. Loans and credit are also a matter of lender preference, so you're never completely barred from getting a loan. Like we've mentioned, practicing responsible credit behavior can help you rebuild credit to higher scores than you had before. The clean slate provided by bankruptcy is meant to help you succeed – not to hurt you in the future.
At Wadhwani & Shanfeld, we make it a point to help our clients understand the facts about bankruptcy. If you have questions about bankruptcy and debt relief, our legal team is available to personally discuss your situation and how we may be able to help.
To learn more about your options during a free case evaluation, contact us today.