Four Reasons Why You Should Hire a Bankruptcy Attorney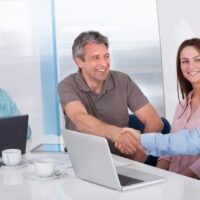 If you are considering filing for bankruptcy, you may be wondering whether it is worth it to hire a bankruptcy attorney or just take your chances handling it on your own. You may be thinking that hearing this kind of an advice from a bankruptcy lawyer is biased, but in order to explain why it is ultimately the best course of action, we have identified four reasons why you should not hesitate to retain the services of an attorney to handle your case.
1. Bankruptcy lawyers can offer you protection from harassment by creditors and collection agencies. Your lawyer can call your creditors and get annoying collection calls to cease, saving you time and stress and allowing you to focus on taking steps to regain your financial independence.
2. Bankruptcy lawyers can help you stay on top of your paperwork. The process of filing for bankruptcy includes a large amount of paperwork that, if not filled out correctly, can greatly complicate the filing process. You will also need to gather many kinds of supporting documentation to go along with your applications. A lawyer can help keep you on track with everything that is needed for your application and can offer you the legal advice that a document preparer cannot.
3. Bankruptcy lawyers offer you their knowledge and experience. Without a thorough understanding of bankruptcy law, it may be difficult for you to go through the process alone. A lawyer can counsel you on how best to answer a judge's questions, and will use their legal expertise to help you manage all of the necessary preparations. They can help protect you from making costly mistakes, like failing to disclose an asset or property that could result in losing it.
4. Bankruptcy lawyers offer you peace of mind and protection from uncertainty. When you leave your case to an expert, you will experience less stress knowing that your case is on track. A lawyer can help you know how to proceed and can let you know the status of your case every step of the way.
Hiring a competent, experienced bankruptcy lawyer to handle your case will save not only you a headache, but it may also end up saving you money in the long run when everything is completed properly the first time. Mistakes can be costly in the legal realm and can affect your time, finances, and may end up potentially costing you your case. With so much at stake, do not risk taking on bankruptcy proceedings alone without the advice of someone who has extensive knowledge on how they work.
The Southern California bankruptcy lawyers at Wadhwani & Shanfeld have filed over 10,000 bankruptcy cases and have helped thousands of satisfied clients get back on their feet financially. We offer free consultations to prospective clients, so do not hesitate to call us today at (800) 996-9932.