When to Consider Filing for Bankruptcy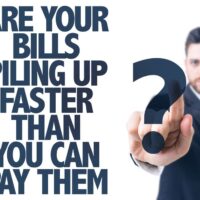 Bankruptcy is one of the most misunderstood concepts in the legal / financial field. The word "bankruptcy" can mean different things to different people and entities; businesses, for example, can strategically use bankruptcy to reorganize and restructure their finances.
For the individual, "bankruptcy" comes with a slew of stereotypes, myths, and assumptions. The negative connotation associated with bankruptcy may keep viable candidates from filing, even though bankruptcy may be the chance they need to reclaim control of their finances.
If you're considering bankruptcy but don't know if it's the best option for you, consider the following factors.
It may be time to consider bankruptcy if…
You only have enough money to make the minimum monthly payments on your credit cards
You receive phone calls or other forms of communication from bill collectors regarding you debt
You pay for necessities, such as food, electrical bills, and transportation with your credit card
You have an overwhelming amount of debt and don't know exactly how much money you owe
If you relate to more than one of these scenarios, you may be able to find relief from your financial obligations through bankruptcy.
The next step is understanding every facet of your financial circumstances. Taking inventory of your debt be overwhelming, but it can help you get determine whether bankruptcy is best for your circumstances, opposed to another form of debt relief.
First, collect financial information regarding your financial assets. This includes real estate, vehicles, college savings, stocks, bonds, and retirement accounts. Then, gather your outstanding credit card statements and bills and subtract the total from your collected assets.
If the result is a deficit, filing for bankruptcy may be the best way for you to escape your debt and find peace of mind about your finances.
If you're ready to speak with an attorney, contact the legal team at Wadhwani & Shanfeld today.