A Fresh Start to 2020: How Bankruptcy Can Help You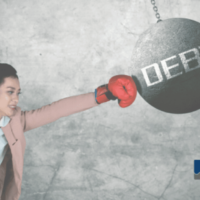 Many people fear bankruptcy because they fear the uncertainties and ramifications. However, bankruptcy offers many benefits to help people become debt-free. In many cases, bankruptcy is the best option for people who want to start over. It is also helpful for people who need help consolidating and eliminating debts but do not want to foreclose on their homes.
What Are the Benefits of Bankruptcy?
Bankruptcy allows people or businesses to resolve their financial difficulties and start rebuilding their credit. When people are completely overwhelmed with debt, bankruptcy allows them to start over. Depending on the type of bankruptcy you file, you may be able to do the following:
Keep your home (no foreclosure)
Relieve certain tax debts
Stop collection calls
Relieve certain credit card debt
Relieve certain medical bills
Stop wage garnishment.
All of these benefits are pursued when we meet our clients and discover how we can help them.
Bankruptcy Chapters: Chapter 7 & Chapter 13
We speak with our clients to determine which bankruptcy chapter makes the most sense for them. Chapter 7 bankruptcy and Chapter 13 bankruptcy are the two most common forms of bankruptcy for individuals. Chapter 7 is a bankruptcy that eliminates most of your debt. However, you typically lose all of your assets including your home. Chapter 13 is a bankruptcy that restructures your debt with payment plans and allows you to retain most, if not all, of your assets. Business owners and entities file under another chapter.
Bankruptcy Attorneys Offer Payment Plans
Are you scared that you can't afford to speak to a bankruptcy attorney? Maybe you want to start the process of bankruptcy, but you do not have any money? We can help. Our firm offers payment plans to help you begin the process of bankruptcy. We understand that it may be difficult to pay in full for our services.
Contact Wadhwani & Shanfeld for more information on how bankruptcy can give you a fresh start and transform your life in 2020. No one wants to go through bankruptcy, but sometimes it is the best option and can give you a fresh start. We would be more than happy to talk with you during a consultation, review your specific situation, and provide an action plan to tackle your debts while saving your assets and protecting your finances.
Contact our Southern California bankruptcy attorneys today at (800) 996-9932 to schedule a consultation!