How to Survive Bankruptcy During The Holidays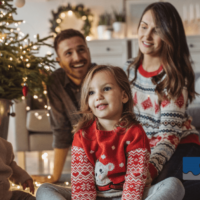 Filing for Bankruptcy During the Holiday Season
The holiday season is a joyous one. However, it can also bring on some stresses. Between shopping for gifts and hosting parties, the holiday season can become a financial strain. If you are already struggling with keeping up with mortgage payments, credit card bills, and other expenses, it can be that much more taxing. For those who are finding it hard to make ends meet this time of year, bankruptcy may be the right solution to get back on financial track. If you are considering filing for bankruptcy this holiday season, here's what you need to know to prepare.
Falling Behind on Mortgage Payments
When it's hard to keep up with mortgage payments, it can be both worrisome and stressful — and being threatened with foreclosure during the holiday season can make it that much more trying. Whether it's unforeseen medical expenses, loss of a job, or having to use credit cards to make ends meet, these financial obligations can lead to falling behind on your mortgage payments unexpectedly. Thankfully, Chapter 13 bankruptcy can be the solution. Here are some ways you can catch up:
The Automatic Stay
The automatic stay is a protection under bankruptcy law that prohibits creditors from contacting or taking legal action against debtors. Once you have filed for Chapter 13 bankruptcy, your mortgage payments will be restructured into a 3 to 5-year plan that will allow you to catch up and get current.
Relieving Second Mortgage Debt
Second mortgages are different from primary mortgages in that they are considered to be unsecured debt. Unsecured debt means that it is not attached to collateral, much like credit cards. If you are struggling to keep up with second mortgage payments, you may be able to strip off your second mortgage debt in its entirety through Chapter 13. However, depending on your financial situation, it may make more sense to use Chapter 7 as a way to relieve second mortgage debt.
Second Mortgage Debt Relief Through Debt Settlement
Another avenue in which a second mortgage can be alleviated is with debt settlement. Debt settlement is an option for those who are not eligible for bankruptcy. Second mortgage settlements work similarly to credit card debt settlement, where you and the mortgage holder agree upon an amount in which you pay less than you owe.
Keeping Creditors at Bay
Having creditors calling and getting late notices in the mail adds more unneeded stress to the holiday season. If you are receiving regular calls from creditors, bankruptcy can stop them. As mentioned above, when filing for bankruptcy, creditors will no longer be permitted to take further collection action due to the automatic stay provision under bankruptcy laws.
Signs of Creditor Harassment
Creditors have the right to contact debtors when they are behind on payments. However, under the Fair Debt Collection Practices Act (FDCPA), creditors may not harass, oppress, or abuse any person while seeking payment for a debt. Even though there are strict creditor harassment laws in place, it still happens — and many people don't realize that the collection tactics being used are against the law. Here are the warning signs that a creditor may be crossing the line:
Harassing Behaviors
Some creditors may exhibit the following intimidating behaviors when attempting to collect a debt:
Repeated phone calls that are intended to aggravate, abuse, or harass.
The use of profanities.
Threats of violence.
Threats of publishing your name to a list of people who refuse to pay their debts (this does not include reporting to credit agencies).
Calling without identifying who they are.
Misleading Practices
The FDCPA does not permit debt collectors to use deceptive and misleading practices to collect a debt. Debt collectors must not make misrepresentations about the following:
The amount owed.
Pretending to be an attorney.
Making false threats to have you arrested.
Threatening to take action against you that cannot be done legally.
How to Avoid Taking on New Debt
The pressures of spending money during the holiday season can be overwhelming — and if you are already struggling with debt, it can cause even more anxiety. Whether you are purchasing gifts or hosting holiday gatherings, it can be easy for these things to push you further into debt. Here are some tips on how you can avoid taking on more debt this season:
Budgeting
With "doorbusters" and other holiday sale gimmicks to get you to buy a "bargain," these retail tactics could get you to spend more than you need to. You can stick to your budget if you:
Create a spending limit according to how much you have remaining after all expenses are paid.
Make a list of all the people you are giving gifts to. Allocate an amount to spend on each person.
Leave credit cards at home when shopping in stores. Use your debit card for online purchases. (Only make purchases online if you have verified that the site is secure.)
Try hosting a "potluck" party where every guest can bring their favorite dish to share. This is a great way to gather loved ones for the holidays without putting extra pressure on you or your wallet.
Should You File For Bankruptcy Before or After the Holidays?
Knowing if you should file for bankruptcy before or after the holidays can be tricky — especially if you are considering doing so right before or after the holiday season. Here are some bankruptcy guidelines you'll need to know:
Making Luxury Item Purchases
Bankruptcy laws are strict when it comes to making luxury item purchases, whether its the holiday season or not. Luxury items are classified as any goods or services that are not a reasonable necessity to support the debtor or the debtor's dependents. If you file for bankruptcy within 90 days of making a luxury purchase of more than $625, then your creditor can ask the court not to dismiss the debt.
Cash Advances
Some may think that taking out a cash advance on a credit card can work around the luxury item bankruptcy provision, but that is not the case. The same rules apply when taking out cash advances on credit cards. Any cash advances made that are more than $950 within 70 days before filing for bankruptcy may also be disputed by your creditors.
Contact a Southern California Bankruptcy Lawyer
If you've been struggling with debt this holiday season, it may be time to enlist the help of an experienced bankruptcy attorney. Your Southern California bankruptcy lawyer will guide you in finding the best course of action to tackle all of your debt problems and ease your fears.
Contact Wadhwani & Shanfeld at (800) 996-9932 today for a free consultation. We'll answer all your questions and ease your financial concerns.