How Does Joint Bankruptcy Work?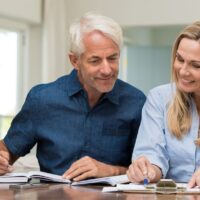 Married couples who are faced with an overwhelming amount of debt may benefit from filing for joint bankruptcy. However, it's important to understand that each couples financial situation is different and bankruptcy isn't a "one size fits all" approach to debt relief. There are some instances in which filing jointly may not be helpful to a couple financially. Here are some things all married couples should know about bankruptcy.
What Is Joint Bankruptcy?
When filing for joint bankruptcy, couples must list all debts owed on the petition — both individually and jointly, along with assets and expenses. Joint bankruptcy can wipe out a married couple's debt without having to file a petition separately, which can save you bankruptcy filing fees and costs.
Benefits of Joint Bankruptcy
Joint bankruptcy benefits include:
Reduced bankruptcy costs – Instead of having to pay bankruptcy fees for separate filings, you only pay the same fee for a joint bankruptcy
Wipe out dischargeable debt – When one spouse files for bankruptcy separately, the other spouse is still responsible for his or her share of debts. With a joint bankruptcy, debts owed by each spouse can be discharged. 
More efficient – Rather than having to compile documentation for bankruptcy in separate filings, you only need to go through one process and attend hearings together. 
When Is Joint Bankruptcy Not the Right Option?
However, there are some scenarios in which filing jointly may not be beneficial. 
Typically, joint bankruptcy is not recommended if:
A spouse owns too much separate property, as some assets may not be exempted when combined. 
A spouse has too much priority debts that include obligations such as taxes, child support, and spousal support. 
In such cases, an experienced bankruptcy attorney can review your finances to determine whether or not to leave your spouse out of the bankruptcy petition.
How Does Joint Bankruptcy Provide Relief from Debt?
Depending on what types of debt you have and your financial goals, each bankruptcy chapter has its own set of rules on what is and is not dischargeable. Here are some ways each chapter can help alleviate debt for married couples.
End harassing phone calls from debt collectors
In most cases, you can keep your house and car
Most household possessions can be protected
Eliminate unsecured debt such as credit cards and other unsecured loans
Get a fresh start in a matter of a few months
End harassing phone calls from creditors
Stop home foreclosures
Protect certain assets from creditors
Protection for third parties (co-signers)
Many married couples are concerned about what happens to property in bankruptcy. The state of California is a community property state, meaning that married couples share ownership of any property and debt obtained through the marriage. Before making a final decision on whether to include your spouse, you should consult an experienced bankruptcy attorney to guide you in the right direction.