Dealing with Debt During the Coronavirus Outbreak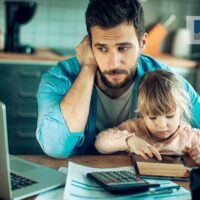 Coronavirus has affected many people throughout Southern California and all across the country. Due to businesses closing, people have seen a reduction in income, and many have lost their jobs. Unfortunately, this time can be more complicated for those who are overwhelmed with debt.
If you find yourself in a difficult position because you're dealing with debt during this health crisis, the team at Wadhwani & Shanfeld is here to help. Our Los Angeles bankruptcy attorneys have put together helpful tips to manage debt during the COVID-19 outbreak.
Be Proactive
One of the best things you can do if you're dealing with debt during this health crisis is be proactive. As soon as you notice that you will have a hard time paying your bills or making debt payments, you should call your loan servicer to discover what options might be available for you. You might be eligible for short-term relief.
Mortgage Payments: If you are worried about making mortgage payments, the Department of Housing and Urban Development (HUD) has halted the initiation and completion of foreclosures and evictions for FHA-insured loans for 60 days.

Property and Sales Tax: If you're behind in paying property tax, it's important to know that certain counties may be declaring a moratorium on sales tax and property tax foreclosures.

Federal Student Loans: Some federal student loan's interest will be waived according to President Trump. Check to see if your federal loan qualifies for an interest waiver.

Credit Card Payments: Many credit card companies announced that they will be extending payment due dates and will be giving credit line increases. However, it may not be in your best interest to take on more credit card debt.
Call Our Experienced Southern California Bankruptcy Attorneys Today!
If you are dealing with debt during this coronavirus pandemic, you're not alone. We understand that this time may be overwhelming, so we are ready to help you become debt-free. We have successfully helped over 20,000 people get back on their feet after a financial crisis. With over 65 years of experience, we have the knowledge, skills, and experience needed to help you. Our team is available to answer your questions and review your case via phone, video chat, or email.
Get in touch with our Los Angeles bankruptcy lawyers today at (800) 996-9932 or fill out an online form!