Can I Eliminate Tax Debt Through Bankruptcy?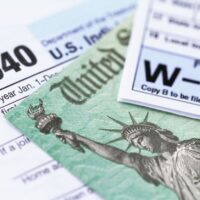 If you didn't pay your taxes or something went wrong with your tax returns, you may have accumulated tax debt. Owing the government tax money can be daunting, especially if you're already dealing with other types of debt. If you're thinking about filing for bankruptcy, but you're not sure if your tax debt will qualify, our team breaks it down for you. Our Los Angeles bankruptcy attorneys explain exactly which tax debts can be discharged through bankruptcy.
Types of Tax Debts You Can Discharge Through Bankruptcy
Most tax debts can't be completely wiped out in bankruptcy. You can only get rid of debts for taxes when you file for Chapter 7 bankruptcy and if the following applies to your unique situation:
Your tax debts are income tax: The only type of debt that can be discharged is income tax. Fraud penalties or payroll tax penalties you owe the IRS can't be eliminated in bankruptcy.
You filed a tax return: If you filed a late tax return or the IRS filed a return on your behalf, your tax debt won't be discharged.
Tax debt no older than two years: Dischargeable tax debt must be at most two years past due before you filed for bankruptcy.
You Passed the 240-day IRS rule: It's important to have the IRS assess your tax debt at least 240 days before you file for bankruptcy.
Call Our Southern California Bankruptcy Attorneys Today!
If you're sick of being tied down by debt, you might be considering filing for bankruptcy. The Los Angeles bankruptcy lawyers at Wadhwani & Shanfeld have helped over 20,000 people get debt relief. Our team works hard to help our clients find real solutions to challenging financial issues. With over 65 years of collective experience, our team of attorneys is ready to help you obtain financial freedom.
Give our Los Angeles bankruptcy attorneys a call today at (800) 996-9932!