When Can I Buy a Home After Filing Chapter 7 Bankruptcy?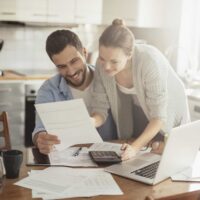 Chapter 7 bankruptcy is one of the most common types of bankruptcy because it wipes away all qualifying debts. Once people obtain financial freedom after bankruptcy, their goal is to restructure their credit and start a new chapter–often including purchasing a new home. Our Los Angeles bankruptcy attorneys explain if people can buy a home after filing a Chapter 7 bankruptcy.
Buying a Home After Bankruptcy
Purchasing a home after Chapter 7 bankruptcy is possible once the court discharges or dismisses your bankruptcy so that you can qualify for a loan. However, the court might not discharge or dismiss your bankruptcy for at least two to four years after filing. If you obtain a government-backed mortgage, you might only need to wait three years after your bankruptcy's dismissal or discharge to get a loan.
It can be helpful to open new accounts after bankruptcy to show that you've established a good credit history since your bankruptcy. This can help you purchase a new home after your bankruptcy has been discharged or dismissed. However, if you want to avoid credit score requirements when buying a house, the FHA does have a rule that lets you apply for a loan without opening any credit accounts after bankruptcy.
However, if you can demonstrate that filing for bankruptcy was beyond your control and occurred because of an unexpected situation, you might be able to reduce the waiting period to twelve months. You will also need to demonstrate that you've handled your finances well after bankruptcy.
Los Angeles Bankruptcy Attorneys
If you're dealing with overwhelming debt and you want to obtain financial freedom, our team at Wadhwani & Shanfeld is here to help you. We've helped over 20,000 people throughout Southern California get financial freedom through bankruptcy. If your goal is to become a homeowner, it may seem like an impossible task with overwhelming debt. However, bankruptcy can help you obtain the financial freedom you need to become a homeowner.
Contact our Los Angeles bankruptcy attorneys today at (800) 996-9932 to schedule a case review!