How to Improve your Credit Score After Bankruptcy?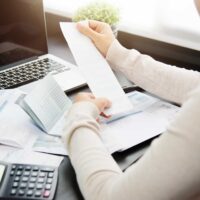 Many people have the misconception that it will be impossible to repair their credit after bankruptcy, but that is far from the truth. Bankruptcy stays on your credit report for seven to ten years, but its impact on your credit will reduce as time goes on. Until then, you can start taking steps to rebuild your credit. To help you get started, our Los Angeles bankruptcy attorneys have put together tips to help you get started on your credit.
Develop Good Credit Habits
You may be surprised to know that the key to rebuilding your credit is to develop good credit habits. Even the smallest habits will make a noticeable difference in your credit score.
A good tip is to make all debt payments on time. Your payment history will be reflected in your credit score, so it is vital that you make loan payments on time. It will also help you if you can make full payments instead of minimum payments. Not only will this save you money on interests, but it will also speed up the credit repair process.
Another tip is to save for emergencies. Many people's finances are thrown off balance when they have an unexpected expense. Accidents rarely occur when we expect them, so it's important to set some funds aside to account for unforeseen car or house trouble, medical expenses, etc.
Monitor Your Credit Score
Another critical step to improve your credit is to monitor it at least every six months. Monitoring your credit can help you catch mistakes or early signs of theft. Most bank accounts offer credit journeys that allow you to track your credit score and see which actions deducted or increased your points.
It's important to note that your credit score will decrease when you open new accounts. However, your credit score will typically rebound in a few months if you continue your good credit habits.
If you are ready to get started on your debt relief process, contact our Los Angeles bankruptcy attorneys today at (800) 996-9932 to schedule a case review!