Step-By-Step Guide to File for Bankruptcy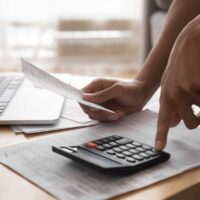 When you are drowning in debt, seeking relief can seem overwhelming. If you are determined to achieve financial freedom, bankruptcy may be a good opportunity for you to get a fresh start. Filing for bankruptcy doesn't have to be difficult. Our Los Angeles bankruptcy attorneys have put together a step-by-step guide to help you file for bankruptcy.
You don't have to go through bankruptcy alone. Get in touch with our Los Angeles bankruptcy attorneys today at (800) 996-9932 to schedule a consultation!
Step #1: Analyze Your Debt Situation
If you're dealing with overwhelming debt, you might see your financial situation as a complete mess. Therefore, it's important for you to sit down and analyze your debt. Determining which types of debt you have will help you know if you can qualify for bankruptcy. For example, some debts like child support, some student loans, and recent tax debt can't be discharged (eliminated) through bankruptcy.
If you are behind on your mortgage payments or car payments, but you want to keep your assets, then you might want to consider Chapter 13 bankruptcy. Chapter 7 bankruptcy is a liquidation bankruptcy that will likely require you to liquidate your assets.
Step #2: Learn about Property Exemptions
Every state has exemption laws that allow bankruptcy filers to keep certain types of property. In most states, people are allowed to keep household furnishings, a modest (not luxury) vehicle, retirement accounts, and some equity in a home.
Learn more about California property exemption laws in our blog post here.
Step #3: Determine if You Qualify for Bankruptcy
To determine if you qualify for bankruptcy and to discover which type of bankruptcy chapter you can apply for, you must take the means test. The means test will review your average gross income during the last six months before you filed for bankruptcy to determine if you qualify. If your income is higher than the average state income, you might only qualify for Chapter 13 bankruptcy.
Chapter 13 bankruptcy allows you to reorganize your debt into a payment plan that typically lasts three to five years. If your income is lower than the average income, you qualify for Chapter 7 bankruptcy. With Chapter 7 bankruptcy, you can discharge your debt in as little as four months but you may need to liquidate assets.
Step #4: Fill Out Bankruptcy Forms
Depending on the type of bankruptcy you will file for, you will need to fill out various forms. The list of forms you will need to fill out will be long, so it's important to make sure that you don't leave out assets or information when doing so. You can find a list of bankruptcy forms on the U.S. Courts website.
Step #5: Submit Documents to the Bankruptcy Trustee
The Bankruptcy Court will ask you to submit documents to prove that the information you provided in your bankruptcy forms is accurate and complete. You will likely need to submit bank statements, paycheck stubs, profit and loss statements, tax returns, and more.
Step # 6: Go to a Meeting with the Trustee
In some cases, you will need to go to court for a short meeting with the bankruptcy trustee. The bankruptcy trustee appointed to your case will check your identification and ask standard questions about your bankruptcy forms.
Seek Legal Guidance
Although the bankruptcy filing process may seem straightforward, there are a lot of moving parts that can impact the outcome of your case if not done correctly. The biggest mistake people make when they file for bankruptcy alone is with bankruptcy forms. Thankfully, with the help of an experienced attorney, you can have the guidance needed to help you achieve debt relief.
Contact our Los Angeles bankruptcy attorneys today at (800) 996-9932 to schedule a consultation!