Who Is Eligible for Student Loan Debt Relief?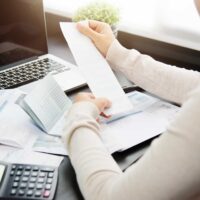 Student loan debt relief can be a difficult thing to achieve. If you're struggling to make your student loan payments, you may be wondering if you're eligible for student loan debt relief. With the recent changes made by the Biden Administration, many people are wondering what their options are. Here's a look at who is eligible for student loan debt relief.
Biden's Recent Actions About Student Loan Debt
President Biden has taken some recent actions that might affect your ability to get student loan debt relief. In April 2022, the Biden Administration announced that borrowers who are enrolled in what's known as the Income-Driven Repayment (IDR) program can receive help to achieve student loan forgiveness. According to the Biden Administration, "roughly 9 million borrowers with more than $500 billion in outstanding federal student loans are currently using an IDR plan to pay off their debt, according to government data."
There are currently four IDR plans that allow borrowers to avoid loan defaulting. The plan helps individuals lower their monthly payments based on their income and family size. Therefore the amounts are smaller than a standard ten-year repayment plan. The IDR also promises loan forgiveness after 20 to 25 years of payments are made, depending on the individual's unique situation.
Problems with the IDR Student Loan Forgiveness Aid
The Department of Education found significant issues with the way the Federal Student Aid and loan service track borrowers' payments if they are in IDR plans. This means that the Department of Education's data might show that borrowers have made fewer payments than they've actually made.
According to their findings, at least 3,000 borrowers qualified for student loan forgiveness but only 132 borrowers receive forgiveness from 2020 to 2021. Since this has been a major issue, the Biden Administration has been implementing a process to address these problems.
I'm Having a Hard Time Seeking Relief? What Can I Do?
If you are having difficulty achieving student loan forgiveness, our team at Wadhwani & Shanfeld is here to help you. We can analyze your unique situation to determine your options. Our Los Angeles attorneys are dedicated to helping individuals throughout Southern California achieve debt relief through bankruptcy and other alternatives.
Contact us today at (800) 996-9932 to schedule a consultation!