Does Bankruptcy Stop Creditor Calls?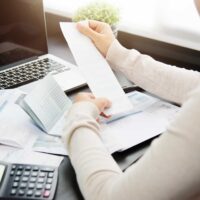 Being in debt can be overwhelming, especially if creditors call you daily to collect your debts. Bankruptcy can be a viable option that helps you get back on track and become debt free. After you file for bankruptcy, those annoying creditor calls should cease immediately. Yet, it's possible to still receive creditor calls after declaring bankruptcy.
Can Creditors Call Me After I Declare Bankruptcy?
Whether you file for Chapter 7 or Chapter 13 bankruptcy, declaring bankruptcy stops creditor calls with a court order, called an automatic stay. An automatic stay is a shield that prohibits creditors from contacting you via phone calls, emails, or letters, making call collection illegal. In some cases, a creditor can receive approval from the court to continue contacting you for collecting, but for the most part, creditors cannot contact you.
What Can I Do if Creditors Continue to Call After Bankruptcy?
Once you declare bankruptcy, you may still receive calls from creditors unaware of your bankruptcy filing. By the time their system updates, they should stop contacting you. If you receive contact from a creditor shortly after you file for bankruptcy, you can let them know that you have declared and an automatic stay is in effect. Make sure to take notes of each creditor that contacts you after you have declared bankruptcy in case you need to bring the creditor to court if they continue contacting you. Often, they will end contact once the creditors are alerted to the change.
In some cases, creditors will ignore the law and continue to harass you with calls. If this persists after you declare bankruptcy, contact a bankruptcy attorney. Your attorney can contact creditors to let them know you have declared bankruptcy or to warn them of sanctions that your attorney can bring to bankruptcy courts.
Contact a Debt Relief Attorney
Our team of Southern California bankruptcy attorneys has years of experience working with clients on their bankruptcy filings. It's important to have qualified advice in your corner as you navigate bankruptcy and are dealing with collection calls from creditors.
If you are tired of the harassing calls from creditors and are considering bankruptcy, contact Wadhwani & Shanfeld at (800) 996-9932 to schedule a consultation.