How Much Debt Must I Have to Be Eligible for Bankruptcy?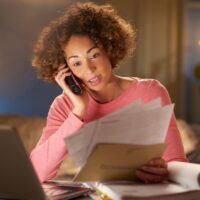 Most people who file for bankruptcy do so because they have an overwhelming amount of debt and are unable to keep up with managing expenses and paying bills. However, despite popular belief, there isn't a minimum debt requirement to be eligible for bankruptcy. Before you make a decision, there are some things you should consider first.
How Much Debt Do You Have?
Before making a decision to file for bankruptcy, knowing how much debt you have plays an important role in figuring out whether bankruptcy makes sense for your financial situation. Ask yourself if:
You can repay your debt without bankruptcy
Your creditors are willing to negotiate settlements
The debts you want to eliminate are eligible for discharge
What Debts Cannot Be Discharged Through Bankruptcy
Not all debts can be wiped out through bankruptcy. The debts that aren't eligible for bankruptcy include but are not limited to:
Spousal support
Child support
Some income tax debts
Certain property taxes
Fines and penalties from violations of the law (i.e.: speeding tickets, criminal restitution)
Student loans
Retirement plan loans
When is Bankruptcy the Best Option?
There are many reasons why people fall into debt. While sometimes life can put us in financial situations that are difficult to get out of, bankruptcy may be the best option if you are struggling to stay above water while trying to keep up with payments on the following debts:
Credit card debt
Medical bills
Personal loans
Payday advances
Overwhelming mortgage payments
If you've been struggling with an overwhelming amount of debt, and are considering bankruptcy as a debt relief option, contact Wadhwani & Shanfeld today at (800) 996-9932 for a free initial consultation. We are here to help you every step of the way.