How Black Friday Purchases Can Affect Bankruptcy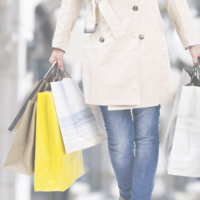 Filing for Bankruptcy After the Holidays
Black Friday officially marks the start of the holiday shopping season. It may be tempting to take advantage of Black Friday; however, if you are planning to file for bankruptcy in the near future, your holiday purchases may not be eligible for discharge. Here's what you need to know so you can prepare.
Making Luxury Item Purchases
Under bankruptcy law, a luxury item is defined as any goods or services that are not reasonably necessary to support the debtor or the debtor's dependents. While luxury items may make a wonderful and generous holiday gift for family and friends, it's not a practical purchase to make when you are considering bankruptcy as your debt relief option. If you total more than $625 on luxury goods or services within 90 days before filing for bankruptcy, your creditor may ask the court not to discharge the debt.
The same bankruptcy rules apply to taking out cash advances on your credit card. More than $950 worth of cash advances within 70 days prior to filing for bankruptcy can be disputed as a dischargeable item.
Reasons Why Creditors May Dispute Discharge for Holiday Debt
Creditors may use the following reasons to make a case that your credit card debt should not be discharged:
You have run up credit card bills shortly before filing for bankruptcy.
Your spending increased in the prior months before filing.
You've used your credit cards after receiving past-due notices.
If it's determined that your credit card debt will not be discharged, you will be obligated to repay the debt.
How a Bankruptcy Attorney Can Help
If you are unsure how to handle holiday season debt or knowing the right time you should file for bankruptcy, enlisting the help of a Southern California Bankruptcy attorney can make all the difference. An experienced bankruptcy attorney knows the laws and can guide you through every step of the bankruptcy process so you can have peace of mind.
Contact Wadhwani & Shanfeld at (800) 996-9932 today for a free consultation. We'll answer all your questions so you can get back to financial freedom.