Am I Able to Own Property After Filing for Bankruptcy?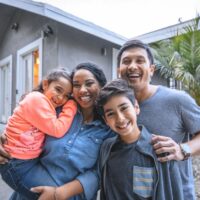 For some, bankruptcy is the only option that can save a dire financial situation. Finding yourself struggling to pay off debt and keeping up with car and mortgage payments, can be both stressful and scary. There are many misconceptions surrounding bankruptcy that may deter someone from getting the help they need. One of the most common myths is that filing for bankruptcy won't allow you to own property. This couldn't be further from the truth.
Read on to get the real facts about bankruptcy and owning property.
How Soon After a Bankruptcy Can You Buy a House?
Once the remainder of your debts are discharged, you will need to wait a certain amount of time before you can obtain a loan to purchase a home. 
After a Chapter 7 bankruptcy, you will need to wait at least 4 years after your discharge. For government-backed loans, you only need to wait 2-3 years to get a loan.
After a Chapter 13 bankruptcy, you will need to wait at least 4 years from the date you filed and 2 years from the date of dismissal. 
While bankruptcy doesn't prevent you from buying a home, it can make it difficult because your credit has been negatively affected. However, if you are able to stay debt-free and rebuild your credit, you should be able to eventually qualify for a loan after a certain period of time.
Getting a Mortgage After Bankruptcy
Filing for bankruptcy does not mean you can never get a mortgage again. Although you may not be able to buy a home immediately after filing bankruptcy, you won't have to wait a lifetime. Life after bankruptcy means financial freedom. Once you have completed your bankruptcy, you'll have a chance to rebuild your credit and save money.
Some tips that can help get you closer to buying a home after bankruptcy include:
Stay on top of credit card payments and bills to help rebuild your credit
Plan out your finances to know how much you can afford to save
Grow your savings and create a goal for your down payment. Also factor in home ownership costs such as maintenance, landscaping, fees, taxes, etc.
Shop around for mortgages to make sure you are getting the best deal possible
If you are planning to purchase a home, consult your bankruptcy attorney for advice on how to plan and work towards your home buying goals.
Learn More About Bankruptcy
Deciding to file for bankruptcy isn't a lighthearted decision. A skilled bankruptcy attorney can assist you in finding the right bankruptcy option for you that will meet your financial needs.
If you're concerned about owning and keeping your property, contact Wadhwani & Shanfeld today at (800) 996-9932 for a free consultation.