Can I Get Rid of Child Support or Alimony If I File for Bankruptcy?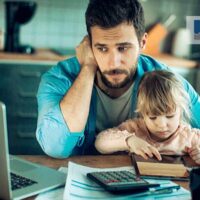 Americans are estimated to pay over 33 billion dollars of child support every year – that's not including alimony payments. Having to pay child support and alimony every month can significantly toll your finances. If you haven't been able to make child support or alimony payments and you owe a significant amount, you might be wondering if you can seek relief through bankruptcy. Our Los Angeles bankruptcy attorneys explain if you can get rid of child support or alimony debt through bankruptcy.
Eliminating Child Support or Alimony Through Bankruptcy
Unfortunately, you cannot use bankruptcy to get rid of past-due child support or alimony. However, bankruptcy might be able to help you get rid of certain obligations under a property settlement and domestic support obligations. Domestic support obligations (DSO) is a debt under alimony, maintenance, or support under a separation agreement or divorce decree. You should speak to an experienced attorney on our team to determine if you qualify for discharge.
If you are dealing with overwhelming debt entirely, aside from child support or alimony, you can still seek relief through bankruptcy. Bankruptcy can help you eliminate credit card debt, personal loans, medical expenses, and more. Even if you can't discharge child support or alimony debt, bankruptcy can free up your financial resources so that you can start fulfilling your child support and alimony obligations.
Seek Legal Guidance
Going through bankruptcy is not an easy process. You should understand your options to determine which course of action is right for you. Our team at Wadhwani & Shanfeld can analyze your situation and help you determine which debt relief option can help you achieve your desired results. Our team of bankruptcy attorneys has years of experience helping over 25,000 individuals across Southern California. Let our team help you!
Contact us today at (800) 996-9932 to schedule a consultation!