Inflation Rates: Impact on Bankruptcy Filings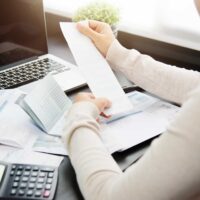 The devastating impacts of the COVID-19 pandemic and the current inflation rate have made life increasingly difficult for many Americans. Over the past 12 months, the consumer price index (CPI) has risen by 7%, a figure not seen since the summer of 1982. This level of inflation has significantly impacted people's ability to keep up with the rising costs of living and has led to an increase in financial hardship for many. The current economic turmoil is bound to have significant impacts on bankruptcy filings.
Inflation & Bankruptcy Filings
The availability of government stimulus money and other government assistance has helped bridge the gap for many struggling financially. Government assistance has kept bankruptcy filings at an all-time low. However, many of these stimulus programs offered during the pandemic have been exhausted, and other financial aids have expired.
While accurate forecasts of the economy and bankruptcy filings have been difficult to predict in the last few years, now that inflation rates are rising and resources are becoming more scarce, bankruptcy filings may be on the rise soon.
Unfortunately, pressure has continued to build on households across California and the country. Whether you're struggling to make mortgage payments, fulfill student loan debt, or repay medical bills, the country's current economic state has made it challenging to recover from the impacts of the pandemic.
Why It's Better to File for Bankruptcy Sooner Rather than Later
Filing for bankruptcy can be a difficult decision, but it is often the best solution for people struggling with debt. Bankruptcy can help you get your financial life back on track and rebuild your creditworthiness in the future. By filing for bankruptcy sooner rather than later, you can gain more control over the process and protect more of your assets.
Need help understanding your options? Get in touch with Wadhwani & Shanfeld today at (800) 996-9932 to schedule a consultation!