Student Loan Debt: Were Federal Cancellations Enough?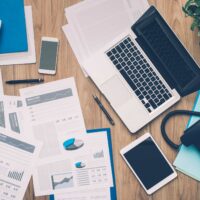 Student loan debt is a growing problem in America. In 2019, the total student loan debt surpassed $1.6 trillion and continues to climb as college costs rise yearly. For many borrowers, this means that their monthly payments take up a large portion of their income, making it difficult for them to put money aside for other expenses or goals such as retirement savings or buying a home.
In August 2022, the Biden Administration released an action plan on student debt relief. However, were these federal cancellations enough? Our team at Wadhwani & Shanfeld explains below.
Were Federal Student Loan Debt Reliefs Enough?
Biden's August proposal included canceling up to $20,000 in loans for Pell Grant recipients held by the Department of Education and up to $10,000 for those who did not receive a Pell Grant. In order to qualify, individuals must have an income of no more than $125,000 (or $250,000 for married couples). The White House estimates that this plan will "provide relief to up to 43 million borrowers, including canceling the full remaining balance for roughly 20 million borrowers."
However, this plan does not eradicate the source of the issue: a postsecondary education system that has seen tuition prices triple in the last 30 years. Therefore, future borrowers may be at risk.
On a positive note, Biden's plan seeks to address some of the difficulties faced by student loan holders by reducing payments from ten to five percent of income and forgiving loan balances after ten years instead of twenty. This will undoubtedly help those who struggle to keep up with the cost of living and are subject to wage discrimination.
Additionally, the plan looks to remedy the Public Service Loan Forgiveness (PSLF) program, which previously rejected 98 percent of applications. They will now offer a "limited PSLF waiver" that will forgive debts for federal student loan borrowers with a minimum ten-year service in nonprofit, military, or government positions.
Obtaining Student Loan Debt Relief
Biden's plan is a step in the right direction toward relieving those facing excessive student debt. However, further action may be required to address the underlying issues behind this crisis fully. If you need more than federal student loan debt relief for your unique situation, bankruptcy can be a great option. Bankruptcy attorneys can provide assistance with filing for bankruptcy and navigating the complexities of this financial tool.
Not sure if bankruptcy is right for you? Contact Wadhwani & Shanfeld today at (800) 996-9932 to schedule a consultation!