Divorcing and In Debt: Reasons to File Bankruptcy First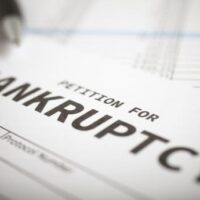 When considering divorce and bankruptcy, it is crucial to time these actions in a way that best makes sense for your circumstances. Generally, it is most beneficial to file for bankruptcy first since filing for both simultaneously delays any distribution of assets or liabilities.
Filing for bankruptcy first may be difficult if you are on hostile terms with your soon to be ex-spouse, but ideal if you are still on amicable terms. If you file jointly for bankruptcy, all of your debts can be addressed in one case, wiping out any joint debts you may have incurred together and increase your exemption amounts. Additionally, bankruptcy eliminates any contracts neither spouse wants, such as costly car loans.
Completing this step first will also resolve or simplify issues of debt, property division, and even lower the cost of your divorce. Ultimately, filing jointly can save time since it eliminates most or all of the unsecured debt, setting the stage for smooth negotiations. This will also ensure that you do not experience any delays related to any pending bankruptcy cases.
Aside from the financial aspect of it, and potential time saved, taking care of a bankruptcy first will also relieve some of the stress either party may have due to their financial troubles. Divorce is already a difficult time on its own, so removing one major stressor can greatly help, and allow both parties to begin the divorce process with some peace of mind.
At Wadhwani & Shanfeld, we have a team of experienced and dedicated lawyers who can help find effective solutions to your debt. If you are unsure if bankruptcy is the best course of action for you, we can help you determine if other options are more suitable. With us, you can be confident that your rights and interests are in good hands.
Call us for a risk-free initial consultation at (800) 996-9932.