Secured vs. Unsecured Debt: What's the Difference?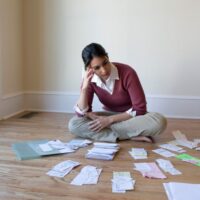 Difference Between Secured vs. Unsecured Debt
Simply put, the main difference between secured and unsecured debt is whether or not collateral is being used. Unsecured debts do not have collateral backing, while secured debts requires that the borrower put up assets as a backing for the loan.
If you're contemplating filing for bankruptcy, you probably have a lot of questions about the process. While bankruptcy is complicated and can be a daunting task to handle without an attorney, it's still a good idea to keep yourself informed as much as possible. Knowing the difference between secured and unsecured debt can help you be better equipped to make a decision on the type of bankruptcy you should file.
What is Secured Debt?
Secured debt is a loan that is guaranteed (secured) by collateral. If an individual fails to make payments on secured debts, then the creditor can take the property without a court judgment. Some examples of secured debt are the following:
Mortgages/mortgage refinancing
Car loans
Home equity loans
Home equity lines of credit
What is Unsecured Debt?
Unsecured debt is not attached to specific property such as a house or car that serves as collateral. Unlike secured debt, creditors cannot take your property if you fail to make payments. However, creditors can sue an individual and get a court judgment for repayment of the debt. Examples of unsecured debt can include:
Credit cards
Medical bills
Personal loans
Payday advances
How to Choose the Best Bankruptcy Option
Both Chapter 7 and Chapter 13 bankruptcy are great options for relieving debt. However, the type of debt you want to alleviate will determine the best bankruptcy option for you.
Also knows as "straight" or "liquidation" bankruptcy, chapter 7 may be the best option to help individuals alleviate credit card debt, medical bills, and other unsecured debt. To be eligible to file for Chapter 7 bankruptcy, you must pass the means test. For those who do not qualify for Chapter 7 may still be able to get debt relief through Chapter 13.
Reorganization bankruptcy, also known as Chapter 13, may be the best option for those who are struggling with secured debt. Here's are some ways Chapter 13 can help:
Avoid Foreclosure
Repay taxes through a payment plan
Reduce debt into one affordable monthly payment
We understand that making the decision to file for bankruptcy isn't an easy one. An experienced bankruptcy attorney can guide you to find the right bankruptcy option to meet your financial needs. If you've been threatened with foreclosure, facing mounting credit card debt or medical bills, contact Wadhwani & Shanfeld today at (800) 996-9932 for a free consultation to learn more about your bankruptcy options.