What Does My Credit Score Say About Me?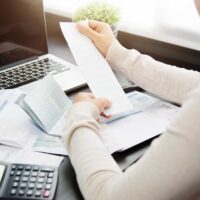 A FICO score is a measure created by the Fair Isaac Corporation that is used by credit agencies to indicate a borrower's risk. In most cases, the higher the credit score, the lower the risk to the lender. This is how financial institutions decide whether to lend money or issue credit. Our Southern California bankruptcy attorneys explain what a credit score might say about you.
Understanding Credit Scores
Credit scores, specifically FICO scores, range between 300 to 850. To determine creditworthiness, lenders take a borrower's FICO score into consideration to make their decision. Maintaining a high credit score requires having a mix of credit accounts and maintaining an excellent payment history. Borrowers with a high credit score often keep their credit card balances well below their limits. Maxing out credit cards, late payments, and applying for new credit regularly can contribute to a lower credit score.
Breakdown of the FICO Scores
The FICO score system is broken down into five-set of score rankings. Below we explain what the credit score rankings are and what they mean to lenders:
< 580: Having a credit score of 580 or less is a well below-average score. It often demonstrates to lenders that lending money to the borrower can be risky.

580 – 669: A credit score between a 580 and a 669 is below average. In most cases, lenders will approve loans, but it can still have an impact on APR.

670 –739: A credit score in this range is near or slightly above average. Most lenders consider this a good score.

740 – 799: A credit score between 740 and 799 is considered an above-average score. Lenders often consider borrowers in this range to be very dependable. They often also get a good APR rate.

800+: Having a credit score of 800 or more is considered well above average. Lenders believe that borrowers in this credit range are exceptional borrowers.
If you are interested in filing for bankruptcy, but you are worried about how it will affect your credit score, contact our team at Wadhwani & Shanfeld today. Our Los Angeles bankruptcy attorneys have successfully helped over 20,000 people get back on their feet after a financial crisis. Call us today at (800) 996-9932!