Which Type of Bankruptcy Eliminates All Debts?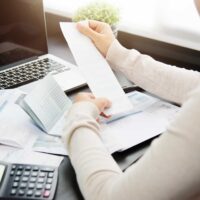 Everyone's debt situation is different; that is why bankruptcy isn't a one-size-fits-all solution. There are different types of bankruptcy "chapters" that people can apply for to help them solve their unique debt problems. If you're facing an overwhelming about of debt and you are sure you won't have the ability to make ends meet, there is a bankruptcy option available to help you. Our Southern California bankruptcy attorneys explain which type of bankruptcy eliminates all debts.
Filing for bankruptcy is complex. Contact our Los Angeles bankruptcy lawyers today to get the guidance through the bankruptcy filing process: (800) 996-9932!
Chapter 7 Bankruptcy
Chapter 7 bankruptcy is the most common form of bankruptcy because it allows filers to achieve financial freedom from debt in the most efficient way possible. Chapter 7 is designed to eliminate unsecured debt—this is debt that is not attached to a material form of collateral. Chapter 7 bankruptcy is the most beneficial type of bankruptcy for those who need to eliminate debt as quickly as possible.
Chapter 7 bankruptcy is the quickest and easiest option for a debt-free future because it enables you to clear your debt in as little as four months. Although Chapter 7 bankruptcy doesn't wipe out all types of debt, it can help you eliminate most debts.
Chapter 7 bankruptcy eliminates a wide variety of unsecured debt, including:
Credit card debts
Medical bills
Personal loans
Payday advances
Student loans
Utility bills
And more
What Assets Can I Keep in Chapter 7 Bankruptcy?
When filing for Chapter 7 bankruptcy, there is a chance that creditors will take some of your assets. Any property and assets you own become part of your "bankruptcy estate" when you file for Chapter 7 protection. This means you no longer own them—the court does. However, you are permitted to keep specific exempt property to ensure that you have everything you need to live, and you have a fresh start. There is a federal and state list of exemptions that debtors can use to elect the set of exemptions that are most beneficial.
Common types of property you can keep in Chapter 7 bankruptcy include:
Residence/home
Car
Retirement accounts
Other property that is necessary to work
Do I Qualify For Chapter 7 Bankruptcy?
To qualify for a Chapter 7 bankruptcy, you must prove your inability to pay off debts. This means you need to earn less than the median income for a family of your size in your state or pass a "means test" if you don't. The test measures your average monthly income over the last five years against your reasonable living expenses.
Common disqualifying factors for Chapter 7 bankruptcy include:
You received a discharge within the last eight years of submitting your current petition
You entered into a Chapter 13 bankruptcy within the last six years.
You dismissed a previous bankruptcy petition within the last 180 days because of objections from creditors or the court.
Southern California Bankruptcy Attorneys
Filing for bankruptcy can be complicated, so you need an experienced bankruptcy attorney to guide you through the process. If you have questions about resolving your debt or you need guidance, our Los Angeles bankruptcy lawyers have a reputation for skilled representation. Our team is equipped to help you find effective solutions to your debt. Not only can we help you achieve short-term relief, but we can also make sure that you face a debt-free future.
Why Choose Wadhwani & Shanfeld?
Invaluable bankruptcy guidance: Attorneys Raj Wadhwani and Greg Shanfeld are Board-Certified Bankruptcy Specialists who leverage their insight on behalf of clients.
Hands-on guidance: Our legal team does all of the work for you, including filing paperwork, keeping track of deadlines, and providing protection from creditors.
Over 65 years of experience: Our attorneys have over 65 years of collective experience helping clients in a broad range of bankruptcy and debt settlement cases.
A proven track record of success: Our firm has successfully helped more than 20,000 people put the pieces of their lives back together after a bankruptcy.
Contact our Southern California bankruptcy attorneys today at (800) 996-9932 to schedule a consultation!