Should I Consolidate My Debt or File for Bankruptcy?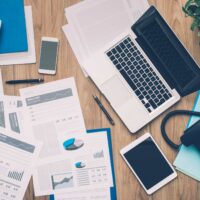 If your debt situation has become unmanageable and it's been challenging to make ends meet, you might be looking at your debt relief options. Two of the most common types of debt relief methods include debt consolidation and bankruptcy. Our Los Angeles debt relief attorneys explain if debt consolidation or bankruptcy might be the right choice for you.
Debt Consolidation vs. Bankruptcy
Debt consolidation is when you secure a large loan that covers older debts or has a high-interest rate. In many cases, debtors pay off all their debts and combine them by putting them all under one loan. Debt consolidation can give individuals more time to pay off debt and reduce interest rates. You will likely need to have a specific credit rating and steady income source to consolidate your debt. It is important to note that debt consolidation doesn't help you discharge any of your debts; it only makes it a bit more manageable.
Bankruptcy, on the other hand, does allow you to discharge your debts. Whether you file for Chapter 7 or Chapter 13, bankruptcy allows you to get qualifying debts forgiven. In fact, bankruptcy is a smart and viable solution for many people who are facing worrisome debt.
Bankruptcy allows you to discharge "unsecured debts," such as:
Credit card debts
Medical bills
Personal loans
Payday advances
Business debts
Utility bills
Student loans (under rare circumstances)
Unpaid taxes past a certain number of years
Veterans assistance loans and overpayments
How Do I Determine Which Debt Relief Option Is Right for Me?
If you aren't sure which is the best option to obtain debt relief, you should get in touch with our team at Wadhwani & Shanfeld. Our Los Angeles debt relief attorneys can analyze your situation and help you determine the best course of action to achieve your desired results. We work closely with clients to guide them through every step of the debt relief process. Our team of attorneys has helped over 25,000 individuals across California achieve financial relief.
Contact our Los Angeles bankruptcy attorneys today at (800) 996-9932 to schedule a consultation!