7 Things You Can Do Today to Stop Wage Garnishment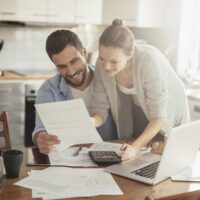 If you are experiencing overwhelming debt, debt collection agencies are probably looking for new ways to collect the debt you owe. A common collection tool that debt collectors use is wage garnishment. Wage garnishment occurs when money is legally withheld from your paycheck and sent to the creditor to reduce the total amount owed.
If you fear that your wages will be garnished, there are various steps you can take today to help you prevent wage garnishment.
If you are facing wage garnishment, contact Wadhwani & Shanfeld today at (800) 996-9932 to schedule a case review. We are here to help you every step of the way!
Step 1: Seek Legal Guidance
Before taking any other steps, you should find an experienced debt relief attorney to help you fight or avoid wage garnishment. Having an experienced attorney on your side is beneficial because it will help you understand your rights moving forward. If you need help finding a solution to your debt, our team at Wadhwani & Shanfeld is here to help.
Step 2: Respond to the Creditor's Letter
Creditors are required to send you a warning letter before any wage garnishments begin. In most cases, these letters are called "demand letters." If you get a letter demanding you to start paying off your debt, you shouldn't ignore it. Ignoring the letter will likely lead to wage garnishment. In most cases, creditors prefer to receive voluntary payments, rather than filling extensive paperwork to use collection tools.
Step 3: Find State Protections
States often provide protection against wage garnishments. In California, you can make a claim of exemption. You can reduce or eliminate the garnishment if you can prove that you have economic hardship and that you need your income to support yourself and your family.
Step 4: Negotiate With Your Creditor
If you know that you are unable to pay off your debt in full, you should negotiate a payment plan. Your attorney can help you identify how much you can afford to pay towards your debt settlement to prevent a wage garnishment early on. The key is to take action before creditors can even file a petition to collect the debt you own without your consent.
Step 5: Object to the Garnishment
If you failed to complete step two and respond to the creditor's letter, you may experience a wage garnishment. If you do, or if you never received a demand letter, you can file an objection to have the garnishment stopped. The objection must be in writing and must be filed to the court to request a hearing.
Step 6: Challenge the Underlying Judgement
If you can prove that you were never served with the complaint and subsequent legal papers, you can legally challenge the underlying judgment of the garnishment. However, this is complex, so it is important to have your attorney guide you through the process.
Step 7: Find Debt Relief Options
Although you can take many reactive steps to protect yourself against wage garnishments, you should find a solution to your primary problem–debt. Your attorney can analyze your case and help you determine the best course of action. In some cases, filing for bankruptcy is the best way to protect yourself from wage garnishments, foreclosure, and other collection methods.
If you need help with your debt relief case, contact our team at Wadhwani & Shanfeld. We have helped over 20,000 individuals throughout California overcome their financial difficulties. We are ready to help you get your finances back on track.
Contact our Los Angeles bankruptcy attorneys today at (800) 996-9932 to schedule a consultation!